---
You can process wires with cutting, stripping, crimping
and seal inserting in one machine!
➤Equipped with a seal insertion unit for single end based on C551SSAZ.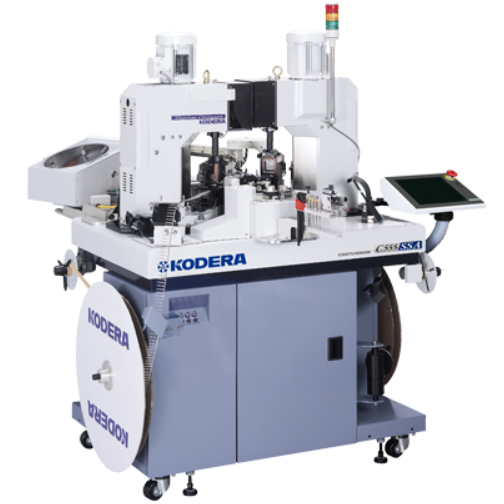 *These videos are about C551SSAZ
C555SSAZ is the latest full automatic crimping machines which are faster start-up time, stable quality, and faster processing speed compared with the old model C555SZ.
■New models do not need a PC anymore and it fulfilled to shorten the start-up time.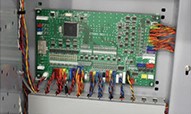 ■By dividing between cutting blade, front stripping blade and rear stripping blade, it is possible to further stabilize the quality of the stripping and increase the processing speed.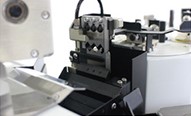 ■In addition to the conventional spraying mechanism, the strip dust is less scatter by vacuuming.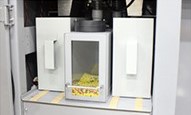 ---
 ◆DF-01 Disk feeder - Seal insertion unit  ‹Patented product›
➤As wire seal is sorted to the correct direction, speedy seal supply has been realized.
➤The sensor does not miss any wire seals to the end of the processing.
➤Recommend the combination use with OR-01 oil removal unit for the wire seals. 
➤By one-touch operation, you can change the unit easily.
 ・Seal chuck can be easily changed by one-touch coupler.
 ・Carry pin can be changed by single screw.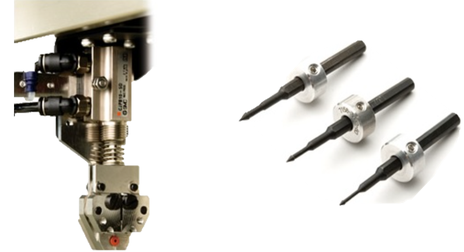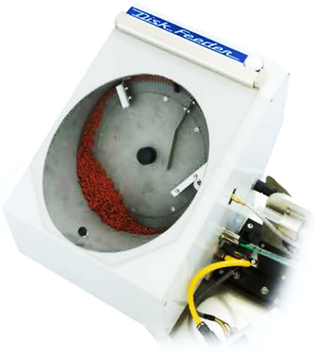 ◆Option - One Push Oil Remover for wire seal ‹Patented product›
OR-01 is developed for the proper oil removal for wire seals. It delivers one touch oil removal, which used to be done manually.
---
◆CFM Crimp force monitor
The load cell, which is installed in the ram of crimping unit, measures the precise crimping force for every terminal crimping. Since an encoder is used to control all the angles, measurement timing does not change regardless of voltage fluctuation.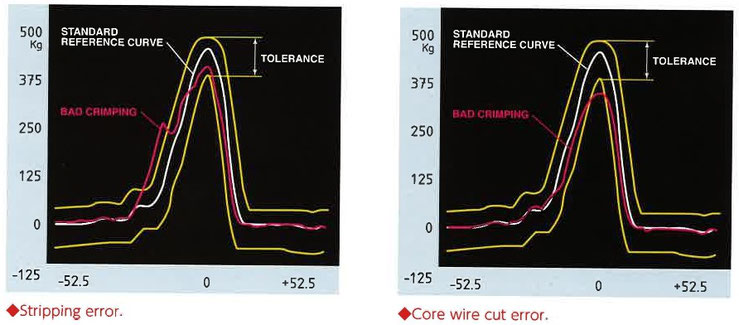 ◆CHA Crimp height automatic reproduction mechanism
Crimp quality is controlled by the crimp height. Since crimp force is related to the crimp height, the C555SSAZ automatically adjusts the crimp force (crimp height), when the crimp force value is specified. Settings can be saved in memory function.
◆One machine to cover thin and thick wires!
CASTUGNON covers a wide range of wire size: #32~#12. You need only one machine to perform all different processing, which conventionally required three to four different machines.
◆User friendly + easy operation
Clear large size full-color LCD touch panel. The interactive picture panel is available for 6 languages, Japanese, English, Korean, traditional Chinese, simplified Chinese and Indonesian.
---
Processing conditions:
▪Wire : 0.5sq(AWG#20)
▪Front and Rear : 4.5mm strip
▪Thin wire mode
▪Speed : all set to 9
▪Core wire diameter : 0.8mm
▪Cutter move back / 0.2mm
▪Rear gripping position : 30mm
▪Seal insert length : 20mm
▪Move back length

  after seal insert : 2mm
▪Seal detect : ON
▪3 blades mode
| | |
| --- | --- |
| Total Length |  Number of Processed wires  |
|    100mm | 3,280 pcs/hour |
|    200mm | 3,280 pcs/hour |
|    300mm | 3,280 pcs/hour |
|    500mm | 3,230 pcs/hour |
|    800mm | 3,070 pcs/hour |
| 1,000mm |  2,980 pcs/hour |
| 1,500mm |  2,790 pcs/hour |
| 2,000mm |  2,620 pcs/hour |
| 3,000mm |  2,340 pcs/hour |
| 4,000mm | 2,110 pcs/hour |
| 5,000mm | 1,930 pcs/hour |
*This is the maximum level measured at Kodera. It may be under the level written here
  due to the type of the wire or terminal and also other processing conditions.
---
| | | |
| --- | --- | --- |
| Model | C555SSAZ |   |
| Setting Range | Front : 0.1~30mm / Rear : 0.1~20mm |                                      |
| Minimum Processing Dimension | L3 ≧ 44mm  (by attaching options : L3 ≧ 25mm) |   |

| | |
| --- | --- |
| Maximum Cutting Length |  99,999mm (Approx.100m) |
| Cutting Tolerance |  Within ±(0.2+0.002×L) mm  *L=Cutting length |
| | |
| --- | --- |
| Crimping Terminal |     Open barrel chain terminal (Left-to-right side feed, End feed) |
| Crimping Capacity |     2.5ton |
| Stroke |     30mm or 40mm |
| Power Rating |     Single phase  AC200V~AC240V  50/60Hz |
| Air Supply (Nℓ/min 0.5Mpa) |     35 |
| Power Consumption |     At rest : 365w / Max : 990w |
| Width × Length × Height |     1090 × 780 × 1550 mm |
| Weight |     480 kg |
| Applicable Wire Diameter |     AWG#12~#32  (Depends on the wire type) |
| Applicable Wire Type |     AV, AVS, AVSS, CAVUS, KV, KIV, UL, IV, Teflon wire, Glass wire etc. |